Online advertising has become the most cost effective form of advertising our business available. Due to the targeted nature of websites you can interact with customers who will have an interest in your service or product.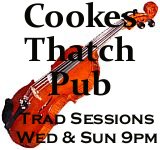 Galway City Pub Guide offers a number of options for you to advertise to our visitors.
We receive in excess of 12000 visitors a month many of whom are planning a trip to Galway in the near future.
We have an Alexa rank of  2,242,338
Internet research has consistently shown that local internet advertising delivers better results than untargeted web advertising.
What does this mean for you? Well if you are trying to attract customers to your business and you feel that our visitors may be intersted contact us today.
How much does it cost?
From €30 a month we will display a banner ad linking to your website or displaying your contact details.
Does it work?
"Galway Pub Guide has delivered traffic and more importantly bookings to me via my advertising. It has been a great success"
Dun Aoibinn House Galway
"We have had a good reaction from visitors learning about our music sessions through our advertising with Galway Pub Guide"
Cookes Thatch Pub
If you have any analytics program you will easily be able to see regular unique visitors coming from Galway City Pub Guide.
Contact us today to find out more or book your ad
This email address is being protected from spambots. You need JavaScript enabled to view it.